Sulwhasoo releases a large-size limited edition of its Gentle Cleansing line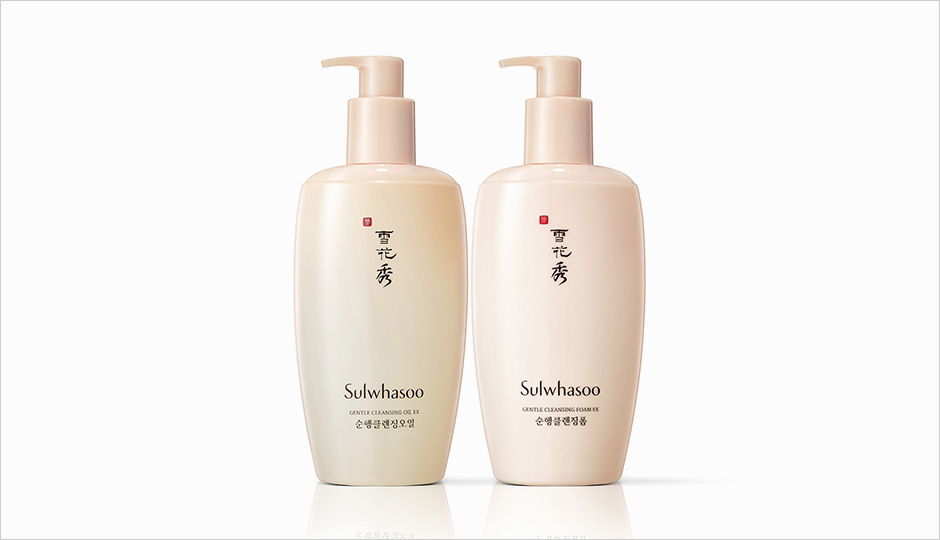 Gentle washing away makeup and dirt from the skin
Sulwhasoo Gentle Cleansing Oi EX and Gentle Cleansing Foam EX Limited Edition
- The large-size limited edition of Gentle Cleansing Oil EX and Gentle Cleansing Foam EX available from June 20 to show gratitude for customers
- Hypoallergenic cleansing oil with refreshing finish and cleansing foam that works with a mild effect to leave the skin feeling well moisturized
Sulwhasoo, a holistic beauty brand that presents the beauty of harmony and balance with Asian philosophy and wisdom, has released a large-size limited edition of its steady sellers, Gentle Cleansing Oil EX and Gentle Cleansing Foam EX both with a mild formula and great cleansing power on June 20 in gratitude for the support and love shown by customers.
Sulwhasoo Gentle Cleansing Oil EX is hypoallergenic cleansing oil that removes makeup residue and dirt from the skin with a smooth rolling action. It quickly dissolves makeup to cleanse even waterproof makeup. In addition, its wash-off ingredients are easily washed away with water to leave the skin feeling refreshed without any oil leftover after cleansing. Adlay and tangerine peel extracts effectively remove dirt from the skin, while apricot seed extract exfoliates the skin to keep it smooth and moisturized.
Sulwhasoo Gentle Cleansing Foam EX is a mild cleansing foam that gently removes dirt from the skin with cleansing ingredients formulated from amino acids, the foundation of the skin's composition, and leaves a layer of moisture for a clean and smooth base. It completely cleanses skin with a rich, fine textured foam and provides essential moisture through natural polymer, duckweed and chestnut shell extracts to keep the skin moisturized for a long time after cleansing. Its pH level is between 6.5 and 7.5, which ensures a smooth and mild cleansing action compared to other alkaline cleansing products.
Gentle Cleansing Oil EX and Gentle Cleansing Foam EX have been much loved by customers since their release and Sulwhasoo now offers a special limited edition in a large-size, upgraded to 400ml from 200ml available through Sulwhasoo stores from June 20.
Sulwhasoo Gentle Cleansing Oil EX Large Size Limited Edition
Size/price: 400ml / KRW 70,000
Release on June 20, 2016
Sulwhasoo Gentle Cleansing Foam EX Large Size Limited Edition
Size/price: 400ml / KRW 62,000
Release on June 20, 2016
Contact: AMOREPACIFIC Customer Service Center (080-023-5454)
About Sulwhasoo
Sulwhasoo believes in a holistic approach to beauty and skincare, providing the ultimate skin solution that carefully treats our inner and outer beauty. The approach harmonizes our natural beauty with ancient Asian wisdom and legendary Asian medicinal herbs to restore the delicate equilibrium between body and mind. The Sulwhasoo brand gains wisdom from the laws of nature and lavishes your body with the rare and precious ingredients of nature in pursuit of that ideal beauty. Sulwhasoo showcases the value of holistic beauty to the world with the Jaum Balancing Complex ™, our unique solution designed to supplement yin energy and help reverse aging by restoring the skin's balance. The formula uses just five precious ingredients, carefully selected from a list of more than 3,000 medicinal herbs, including Korean ginseng, the legendary ingredient that makes Sulwhasoo's unique formulas even more special when combined with our cutting-edge bioconversion technology. As of 2015, Sulwhasoo has stores in South Korea, Mainland China, Singapore, Hong Kong (China), Thailand, Indonesia, Malaysia, Taiwan, Vietnam, and the U.S., successfully thriving as the Asian beauty creator.