2016 Sulwha Cultural Exhibition
《Once upon a time: The Two Love Stars, the Altair and Vega》to be Opened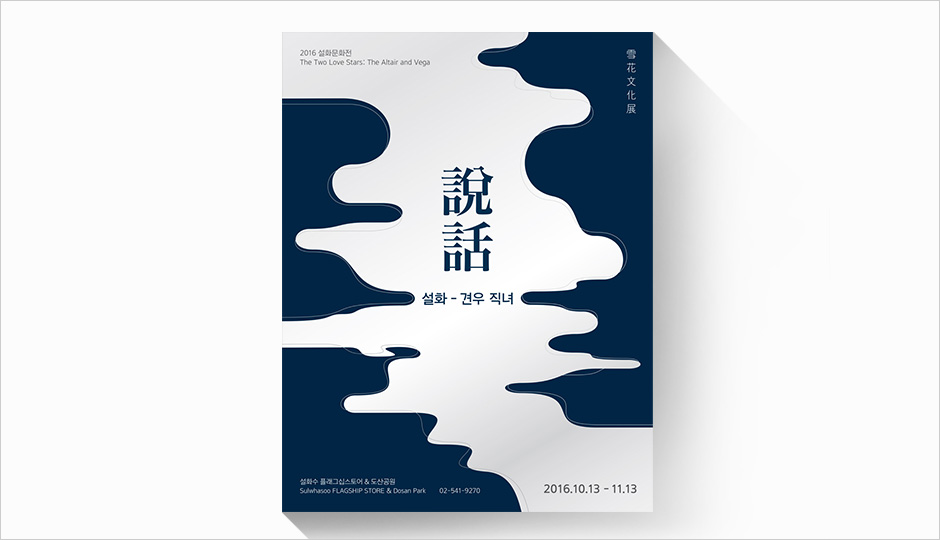 Exhibition will be held at two locations: Sulwhasoo Flagship Store and Dosan Park for a month, starting on October 13th
- Exhibition curated to offer special experience in discovering Korean cultural and historical value.
- The Korean traditional folktale, "The Two Love Stars, the Altair and Vega" to be reinterpreted in diverse genres by young contemporary talents in modern perspectives.
A holistic beauty brand that presents beauty of balance and harmony with Asian philosophy and wisdom, Sulwhasoo exhibits 《Once upon a time: The Two Love Stars, the Altair and Vega》from October 13 (Thur) to November 13 (Sun) at Sulwhasoo Flagship Store and Dosan Park.
As part of Sulwhasoo's unique cultural mécénat, to realize the brand philosophy of harmony and balance and to globally promote Korean beauty, the root and source of Sulwhasoo's inspiration, "Sulwha Cultural Exhibition" has continued for the past decade. The Sulwha Cultural Exhibition not only cherishes and hands down Korean tradition, but also fulfills its role in opening grounds for connection and communication among different generations. It harmonizes tradition and modernity and has become the representing cultural mécénat of Korea. Carrying on with the spirit, the 2015 Sulwha Cultural Exhibition was regarded as creating a new cultural exhibition by presenting a contemporary reinterpretation of traditional folktale bringing interest and sympathy to audience of various generations.
This year, Sulwha Cultural Exhibition is poised to take another step forward. The 2016 Sulwha Cultural Exhibition chose the folktale The Two Love Stars, the Altair and Vega which has been passed down for generations and considered to have enormous influence on the sentiments of many Koreans. The story has undergone many reinterpretations in modern perspectives to present forms of various artworks. The folktale consisting symbolic elements of love, promise, encounter, and continuity are added by the imagination and creative view of modern artists from different backgrounds to present an exhibition that would be open for various interpretations. Visitors will be able to experience the fascination in taking new perspectives in the familiar folktale and experience pleasure of being submerged in imagination.
This exhibition has been curated and organized by Amorepacific Museum of Art and is attracting attention with eleven teams of promising modern artists. Media artists Joon Kim, Elly Cho, and FriiH; architects stpmj, OAA and Youngwook O.; installation artists Gayoung Jun, Sujin Lee, Yeojoo Park; design artists Fabrikr and Jimi An + Sanghong Lee are the participating artists with diverse background and genre and will present multiple artwork of the reinterpretation of the folktale in various perspective.
Since Sulwha Cultural Exhibition will be held in two different locations, Sulwha Flagship Store and Dosan Park, the exhibition has prepared numerous elements that will enable visitors to discover the meaning of the connection between the two venues. By holding the exhibition at Dosan Park which is filed with the historical spirits of Korea, Sulwhasoo hopes to promote the cultural and historical value of Korea. At the Sulwhasoo Flagship Store, visitors can see Sulwhasoo's efforts of working hand in hand with artisans to succeed Korean traditional culture. This year, in collaboration with Gwanchae Jeong, the Intangible Cultural Properties Number 115, visitors will have the opportunity to participate in maintaining the existence of Korean traditional culture through carefully crafted handkerchiefs, notebooks and pouches.
For more information and updates on the 2016 Sulwha Cultural Exhibition, visit the 2016 Sulwha Cultural Exhibition (www.sulwhaculture2016.com) page and follow Sulwhasoo's Instagram account (www.instagram.com/sulwhasoo.kr) and Facebook account (www.facebook.com/sulwhasoo.official).
About Sulwhasoo
Sulwhasoo believes in a holistic approach to beauty and skincare, providing the ultimate skin solution that carefully treats our inner and outer beauty. The approach harmonizes our natural beauty with ancient Asian wisdom and legendary Asian medicinal herbs to restore the delicate equilibrium between body and mind. The Sulwhasoo brand gains wisdom from the laws of nature and lavishes your body with the rare and precious ingredients of nature in pursuit of that ideal beauty. Sulwhasoo showcases the value of holistic beauty to the world with the Jaum Balancing Complex ™, our unique solution designed to supplement yin energy and help reverse aging by restoring the skin's balance. The formula uses just five precious ingredients, carefully selected from a list of more than 3,000 medicinal herbs, including Korean ginseng, the legendary ingredient that makes Sulwhasoo's unique formulas even more special when combined with our cutting-edge bioconversion technology. As of 2015, Sulwhasoo has stores in South Korea, Mainland China, Singapore, Hong Kong (China), Thailand, Indonesia, Malaysia, Taiwan, Vietnam, and the U.S., successfully thriving as the Asian beauty creator.