Sulwhasoo 2016 ShineClassic Makeup Limited Edition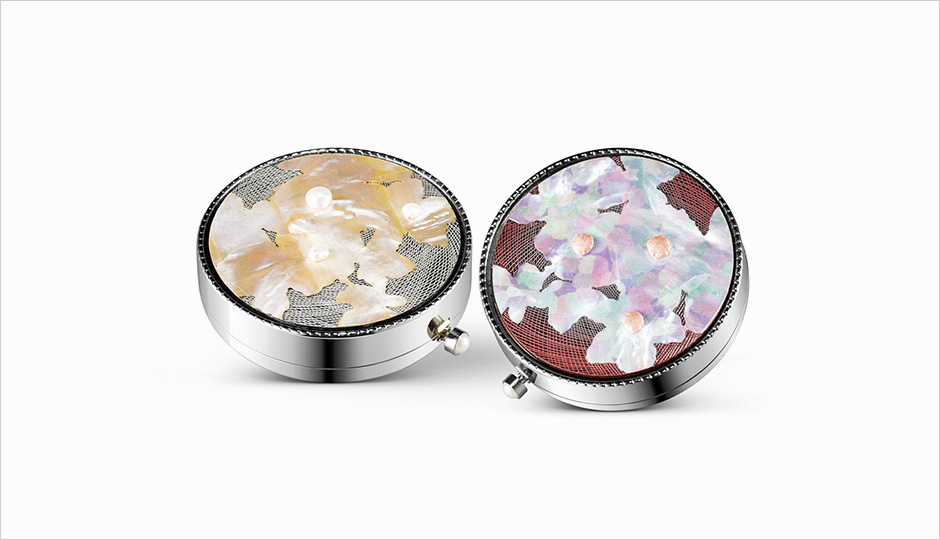 Creating harmonious beauty of tradition and modernity with luxurious mother-of-pearl art
- The limited edition comes in two variants, ShineClassic Powder Compact and ShineClassic Multi Powder Compact.
Sulwhasoo, Amorepacific's holistic beauty brand, which delivers the beauty of harmony and balance inspired by Asian philosophy and wisdom, releases 2016 ShineClassic Makeup Limited Edition Kit presenting a contemporary interpretation of traditional Korean aesthetics with a touch of luxe and glamour. The limited edition comes in two variants, ShineClassic Powder Compact and ShineClassic Multi Powder Compact.
Sulwhasoo introduced ShineClassic Makeup every year since 2003, drawing design inspiration from traditional Korean patterns, materials and craft techniques. ShineClassic Makeup has evolved in a way that weaves Korean aesthetics into a contemporary context.
This year, ShineClassic Makeup Limited Edition features mother-of-pearl, a traditional material for luxurious decorations, as its design theme. Through collaboration with artists Lee Hyun Kyung, Koo Eun Kyoung and Lee Hye Min, Sulwhasoo envisions fully blooming plum blossoms on top of the silk mesh by combining the natural beauty of luxurious nacre and a feel of craftsmanship. In particular, ShineClassic Makeup Limited Edition delivers harmonious beauty between tradition and modernity by recreating plum blossoms with a traditional craft technique, the Bokchae Method, where the back of the mother of pearl is painted to bring out the natural color. The pistil of the plum blossom is created with fresh water pearl, accentuating the luxe appeal. In addition, plum blossoms, a symbol of dignity and elegant beauty, are designed into the powder compact casing and the pressed powder inside, making ShineClassic Makeup Limited Edition more special and meaningful.
2016 ShineClassic Makeup Limited Edition adds translucency and clarity to the skin with Soft and Fine Powder. ShineClassic Powder Compact makes the skin look refined and bright with particle-controlling Fine Grinding Technology, inspired by traditional grinding stones used by our ancestors. ShineClassic Multi Powder Compact creates natural-looking contouring effects with natural colors derived from natural colorants and translucent glow of pearls, which have a structure similar to glass.
ShineClassic Powder Compact is a premium compact that gives skin a translucent and clear finish with fine and pure powder. Plum Mume Extract takes care of the skin, making the texture as soft as a petal. The Ultrafine and silky powder perfected with Fine Grinding Technology and Soft and Fine Powder achieves a refined and radiant look. The ShineClassic Powder Compact incorporates the grayish white color of pure plum blossoms that bloom in the winter into its packaging and casing designs.
ShineClassic Multi Powder Compact is a premium multi-color compact, which makes the skin look as fresh and youthful as crisp plum petals. This blush plus highlighter brings vitality and brightness to the skin, and the subtle colors of the beautiful plum petals liven up the skin tone. The natural color derived from natural colorants adds healthy vitality to the skin, while the natural radiance of pearl achieves a desired facial contouring effect. ShineClassic Multi Powder Compact captures the mystique purple hues of plum blooms.
ShineClassic Makeup Limited Edition, featuring a modern reinterpretation of traditional mother-of-pearl craft, is available at Sulwhasoo counters at department stores around Korea from December 2016, while supplies last.
Sulwhasoo 2016 ShineClassic Powder Compact
Content: 10g*2
Shade: Natural Beige (No. 1) / True Beige (No. 2)
Sulwhasoo 2016 ShineClassic Multi Powder Compact
Content: 10g (includes brush)
Shade: Light Pink & Light Yellow & Purple
About Sulwhasoo
Sulwhasoo believes in a holistic approach to beauty and skincare, providing the ultimate skin solution that carefully treats our inner and outer beauty. The approach harmonizes our natural beauty with ancient Asian wisdom and legendary Asian medicinal herbs to restore the delicate equilibrium between body and mind. The Sulwhasoo brand gains wisdom from the laws of nature and lavishes your body with the rare and precious ingredients of nature in pursuit of that ideal beauty. Sulwhasoo showcases the value of holistic beauty to the world with the Jaum Balancing Complex ™, our unique solution designed to supplement yin energy and help reverse aging by restoring the skin's balance. The formula uses just five precious ingredients, carefully selected from a list of more than 3,000 medicinal herbs, including Korean ginseng, the legendary ingredient that makes Sulwhasoo's unique formulas even more special when combined with our cutting-edge bioconversion technology. As of 2015, Sulwhasoo has stores in South Korea, Mainland China, Singapore, Hong Kong (China), Thailand, Indonesia, Malaysia, Taiwan, Vietnam, and the U.S., successfully thriving as the Asian beauty creator.