Sulwhasoo First Care Activating Serum EX launches '#Find Your Balance' campaign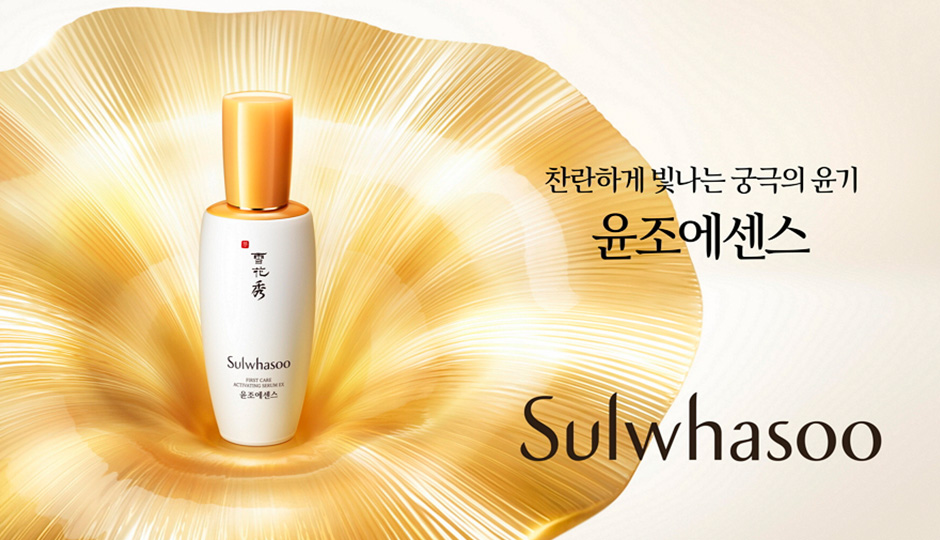 True beauty begins from balanced skin
- First Care Activating Serum EX campaign draws attention to the values of balanced life and skin
- On the occasion of First Care Activating Serum EX's 20th anniversary, Sulwhasoo opens an Instagram campaign page to share First Care Activating Serum EX's skin-balancing beauty rituals
Sulwhasoo, Amorepacific's holistic beauty brand, which delivers the beauty of harmony and balance inspired by Asian philosophy and wisdom, launches 'Find Your Balance' campaign. First Care Activating Serum EX, Sulwhasoo's best-selling signature product, restores balance to the skin, when used in the first step of beauty routine, right after cleansing.
Sulwhasoo's Find Your Balance campaign delivers a message that just as balanced nourishment, vitality, clarity, resilience and regeneration are essential to a healthy-looking skin, balanced mind and attitude are important to every passing moment of life. Marking its 20th anniversary, First Care Activating Serum EX is set to expand the importance of balance beyond skincare to women's daily lives. Find Your Balance campaign raises awareness about the value of balance, which is hard to come by these days, and helps women find balance in skin, life and career to achieve true beauty.
As part of the Find Your Balance campaign, Sulwhasoo has opened an Instagram page (https://www.instagram.com/sulwhasoo.balance) to share First Care Activating Serum EX's skin-balancing beauty rituals and useful tips on daily habits and the practice of mindfulness to achieve balance in life. Through the Instagram page, Sulwhasoo is holding a special event from April 26 through June 12. Among those who bookmark the most relatable content and leave a comment on the bookmarked post, one winner will be randomly selected every week to receive Balance Kit comprising First Care Activating Serum EX's 20th Anniversary Edition and First Care Activating Mask.
As the first step in the skincare routine, First Care Activating Serum EX addresses dryness in the skin, the root cause of all skin troubles, and restores balance to the skin, leaving it moisturized and radiant looking. First Care Activating Serum EX contains Sulwhasoo's heritage ingredient, JAUM Balancing Complex™, an optimal blend of five precious ingredients carefully selected from 3,000 herbs identified in traditional medicine classics. JAUM Balancing Complex™ brings balance to the key aspects of the skin - nourishment, vitality, clarity, resilience and regeneration.
Sulwhasoo First Care Activating Serum EX
Volume: 60ml, 90ml, 120ml
About Sulwhasoo
Sulwhasoo believes in a holistic approach to beauty and skincare, providing the ultimate skin solution that carefully treats our inner and outer beauty. The approach harmonizes our natural beauty with ancient Asian wisdom and legendary Asian medicinal herbs to restore the delicate equilibrium between body and mind. The Sulwhasoo brand gains wisdom from the laws of nature and lavishes your body with the rare and precious ingredients of nature in pursuit of that ideal beauty. Sulwhasoo showcases the value of holistic beauty to the world with the Jaum Balancing Complex ™, our unique solution designed to supplement yin energy and help reverse aging by restoring the skin's balance. The formula uses just five precious ingredients, carefully selected from a list of more than 3,000 medicinal herbs, including Korean ginseng, the legendary ingredient that makes Sulwhasoo's unique formulas even more special when combined with our cutting-edge bioconversion technology. As of 2017, Sulwhasoo has stores in South Korea, Mainland China, Singapore, Hong Kong(China), Thailand, Indonesia, Malaysia, Taiwan, Vietnam, and the U.S., successfully thriving as the Asian beauty creator.