Sulwhasoo 'Benecircle Massage Cream EX'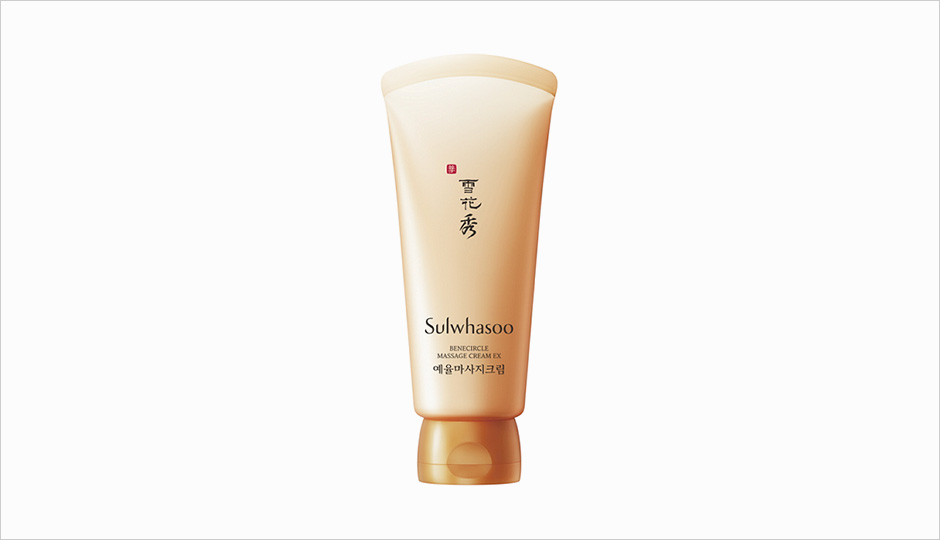 The firming massage cream plumps up the skin with a moisturizing touch
- 'Cream-to-Oil Formula' presents a moisturizing touch without stickiness
- Based on Korean medicinal compound, JISUN Firming Complex™ firms up the skin, adding healthy radiance
Holistic beauty brand Sulwhasoo, which delivers the beauty of harmony and balance inspired by Asian philosophy and wisdom, releases an upgraded Benecircle Massage Cream EX. With a perfect harmony of cream and oil, 'Benecircle Massage Cream EX' rolls on the skin effortlessly and smoothly with a moisturizing and firming finish.
'Benecircle Massage Cream EX' is a firming massage cream whose creamy texture delivers a rich nourishing touch immediately. 'Cream-to-Oil Formula' enables gentle massage with cream that changes into oil when spread on the skin. Capturing the benefits of oil without stickiness, Benecircle Massage Cream EX adds a moisturizing feel and radiance to the skin. The scent of plum blossom has a soothing effect, revitalizing the tired body and mind.
Korean medicinal compound JISUN Firming Complex™ contains lycium Chinese fruit extract, also known as the fruit of immortality, which helps enhance the skin's firmness. In addition, 'Fruit-flower oil complex', based on hemerocallis fulva flower extract and hippophae rhamnoides fruit extract, soothes skin and gives healthy and radiant look.
The upgraded 'Benecircle Massage Cream EX' comes in a tube with a one-touch cap, making it easier and more hygienic to use. The packaging has changed from a jar to a tube, maximizing convenience and portability. Moreover, the subtle golden color gives it a modern and refined touch.
The skin-moisturizing and firming 'Benecircle Massage Cream EX' will be available at Sulwhasoo counters at department stores nationwide, Sulwhasoo Flagship Store and Amorepacific Mall (www.amorepacificmall.com) from mid-October.
Sulwhasoo Benecircle Massage Cream EX
About Sulwhasoo
Sulwhasoo offers the ultimate skin solution that treats the skin from within by incorporating modern skin science into legendary ingredients infused with timeless Asian wisdom and presents holistic beauty to restore balance between body and mind. The Sulwhasoo brand gains wisdom from the laws of nature, pursues beauty reminiscent of nature with precious natural ingredients and delivers beauty of harmony and balance between body and mind by creating beauty from the inside out. Sulwhasoo globally promotes the value of holistic beauty with the JAUM Balancing Complex™, an optimal blend of five ingredients, carefully selected from more than 3,000 medicinal herbs, Korean ginseng, the legendary ingredient that makes Sulwhasoo's unique formulas even more special, and Sulwhasoo's cutting-edge Bio-conversion Technology™. As of 2017, Sulwhasoo has established itself as an Asian Beauty Creator, operating in 12 countries around the world such as South Korea, Mainland China, Singapore, Hong Kong (China), Thailand, Indonesia, Malaysia, Taiwan, Vietnam, the US, Canada and France.