Actress
So Yu Jin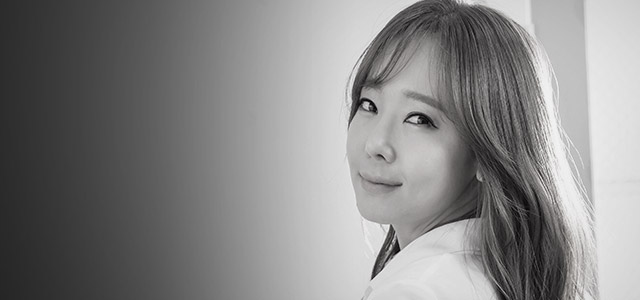 The role of a mother and the role of a wife both fit her well like they were tailored for her.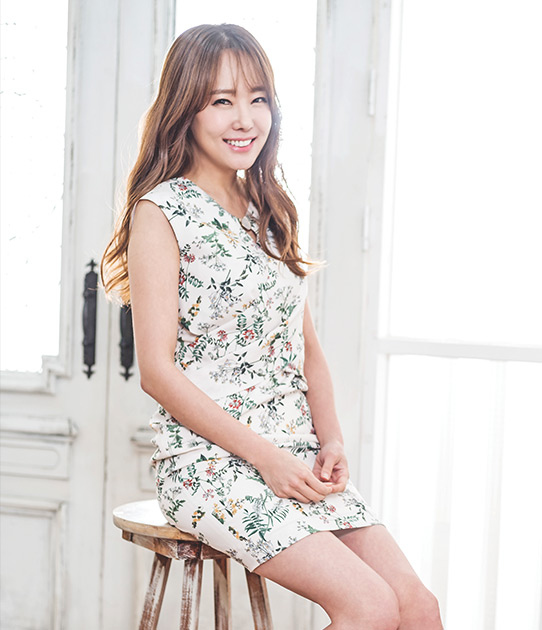 The actress is going with the natural flow of her life.
She has accepted her situation as a working mom and is finding ways to balance her priorities. "Now, I understand how working moms feel. I published <Baby Food for Happy Moms and Kids> a year ago, and post on my personal SNS simple recipes that are easy to follow because I wanted to alleviate the burden of many moms out there. It was not easy, but I enjoyed it. I am very happy that many people like what I do, and say that it is helpful."
When she published the book last year, she made gifts for her readers as well. She was told to use no more than 10% of the price of her book, so nothing made better gifts than what she made herself.
She chose to give marble plaster air fresheners. It required a certificate, so she obtained one first. She received a soy candle certificate to make thank-you gifts for her eldest child's 1st birthday, and an aroma certificate to make homemade soap as thank-you gifts for her younger child's 1st birthday.
"I have always been curious, and I can't stand it until I found answers. I have certificates, but I am not as skillful as the experts with their many years of experience. I continue to challenge myself and create things, and then share the process to encourage other moms like me to try it themselves.
Child rearing is exhausting, but learning to make things and actually creating something can be uplifting. Moms can be more devoted to their children when they are at peace."
She has posted homemade food recipes on her SNS pages for the same reason. She hopes to continue to ask, "What should I make today?" an assignment that can be easier for moms.
"I have always enjoyed cooking; and it's not just because of my husband. I would ask my mom when I was younger, and learned about her recipes. Cooking brought me and my husband closer when we were dating. You never get a break from 'food' when you are a mother. So you'd better enjoy it. I try to 'enjoy it when I can't avoid it' all the time, and cooking is not an exception."
'Enjoy it when I can't avoid it' has become her mindset not just in child rearing, but also in her work. She tries not to think of her kids when she is at work, and not to think of her work when she is with her kids. "I've decided to focus on one thing at a time.
So I work really hard when I'm at work. I use my breaks to memorize lines so I don't have to do it at home. When I can stay home all day, I play with them all day long instead."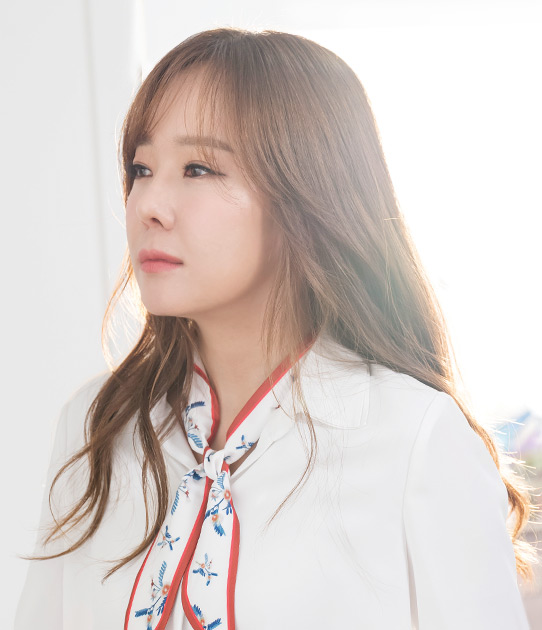 Be happy!
That's probably why her kids never bothered her even while working long weekends for a series.
"My kids are one year apart, and they were still young when I was cast for a weekend series. But I really wanted to do it because it had a great story. The show became very popular, and it helped me find balance between my work and my kids."
The experience trained her to play Jasmine in Director Jin Jang's play <The Secret of Flowers> right after the TV series. It wouldn't have been possible if she couldn't balance her time between her work and her kids. So was confused when she had her first child. "I still feel like a single woman, but why is there a life that I should be taking care of? I am an actress, what would happen to my life? Will I disappear, and be nothing but a mom?" She quickly planned to have her younger child to overcome her postpartum depression. She admitted she began to accept her role as a mother when she had two children.
"I decided to enjoy it because I couldn't avoid it. I wanted to be a good mom of two. I decided to accept my position. Fortunately, my plan worked, and we got a beautiful daughter. I'm very happy and at peace right now." She tries to do her best in every opportunity. She wants to be thankful, and to convey to the public her positive energy. She can be tired and overwhelmed sometimes, but she tries not to let it show. She just wants to be positive as much as possible because she can't avoid it. "I will tell you about a nice recipe for <Sulwhasoo> families' spring picnics. It's a stew that makes vegetables delicious even for kids that don't like eating vegetables, like my elder one. You can use any kind of beef; even brisket for soup. Cook the beef and add chopped onions. Add apples, carrots, and any other vegetables you can find ground. Add a little bit of ketchup, and pour water to simmer. When it's reduced a little bit, season with salt, and then serve it with pasta or bread, or all by itself. It's good even when cooled, so it's great for picnics. Oh, you should add some pepper to the stew for yourself after scooping some for your kids."
Her picnic dish recipe was as simple and straightforward as her life. Stay tasty and be happy with what you have! Your mindset for each day of your life should be like hers as you try her recipe yourself. Be happy!