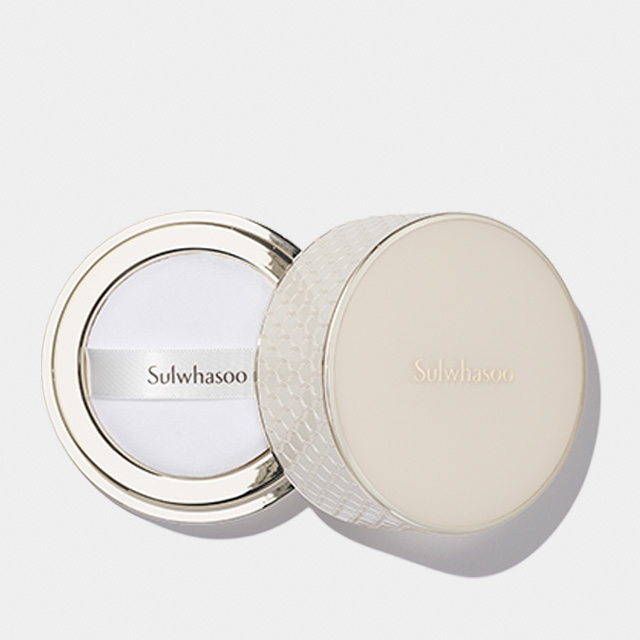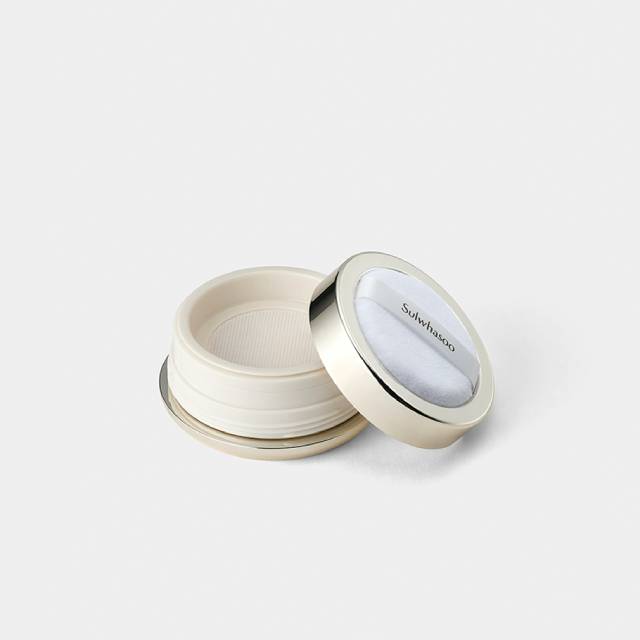 Perfecting Powder
A skin caring finish powder that sets makeup perfectly in place and it settles comfortably on your skin
PERFECTING
POWDER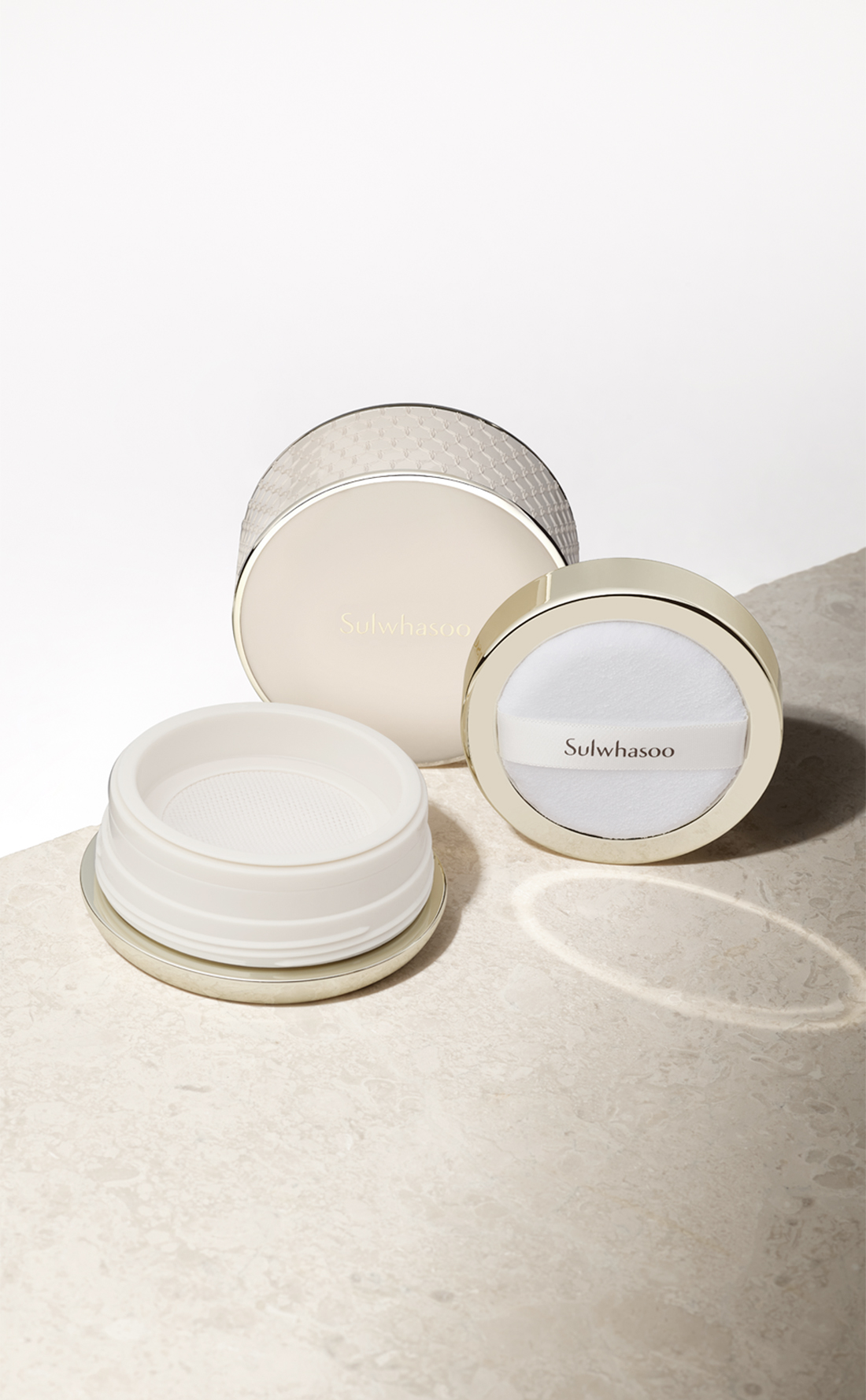 A skin caring finish powder
that sets makeup perfectly
in place and it settles comfortably
on your skin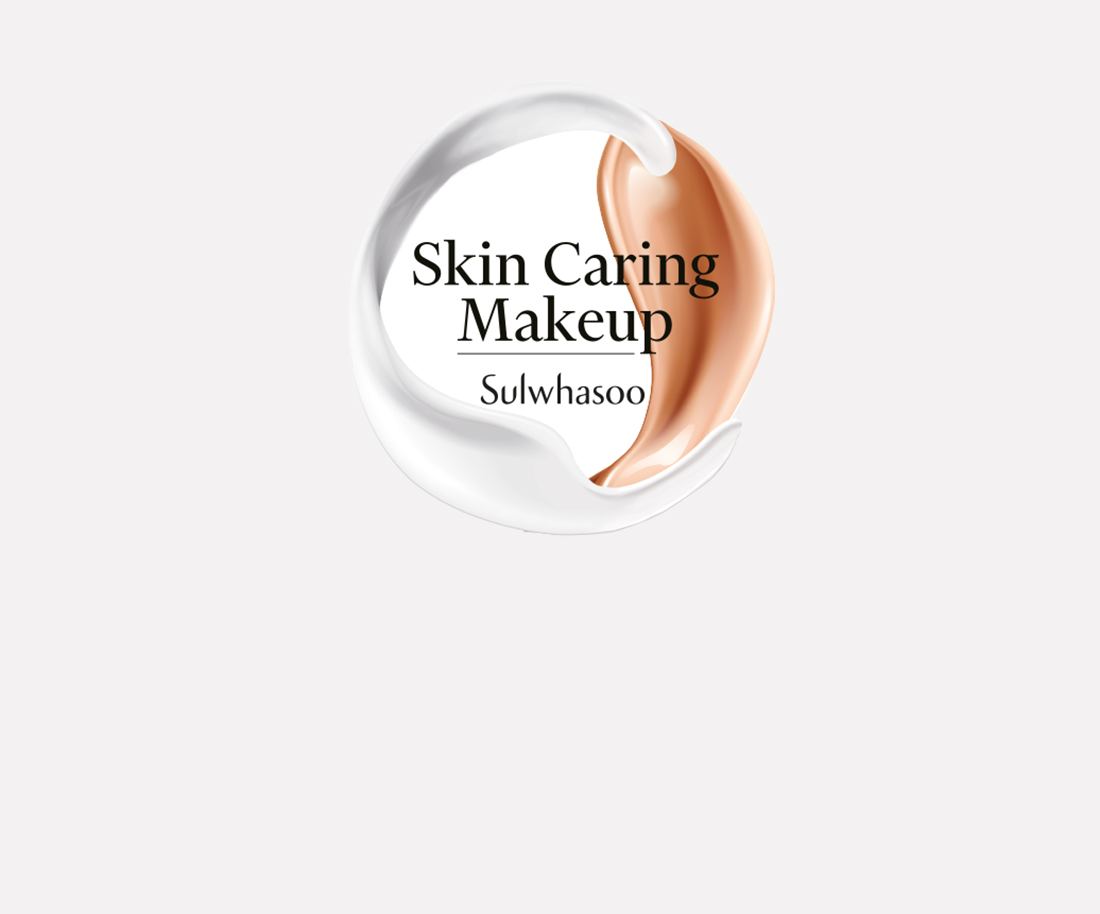 Sulwhasoo's unique skincare
hybrid formula keeps the skin looking soft,
healthy, and beautiful
Perfecting Tone Correction
The Perfecting Powder has a well-balanced combination of a variety of fine powder particles.
It corrects your skin tone in a naturally radiant way, and it does not settle in fine wrinkles or pores and keep your skin looking smooth.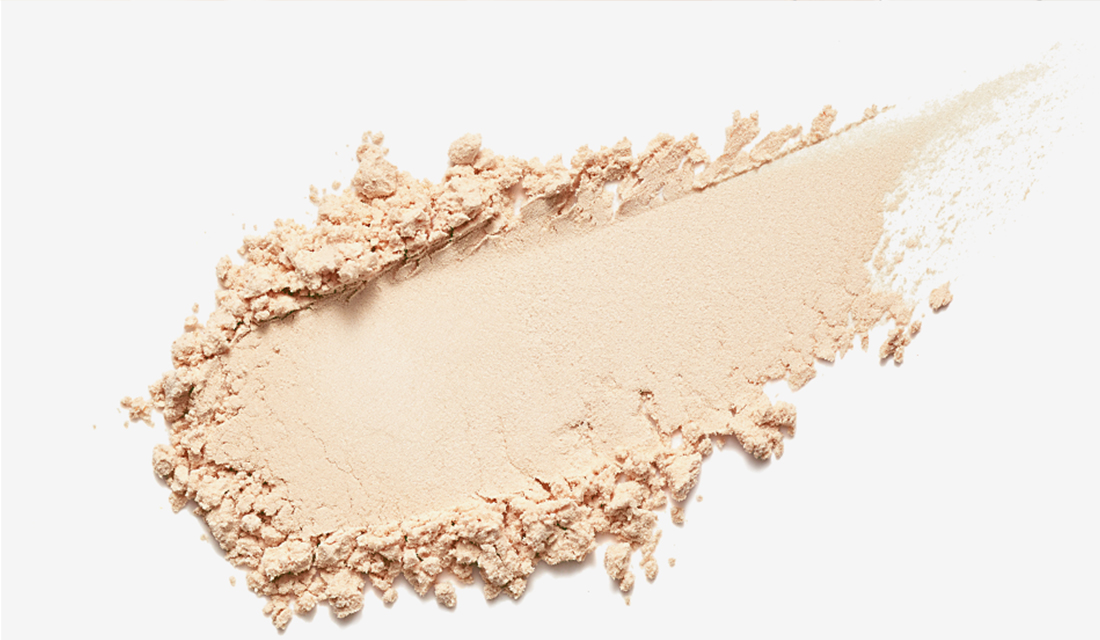 Long-lasting perfect coverage
The Perfecting Powder is a moisture-coating powder that is highly skin-friendly.
With moisturizing ingredients that are extracted from plants, the makeup stays in place without feeling dry.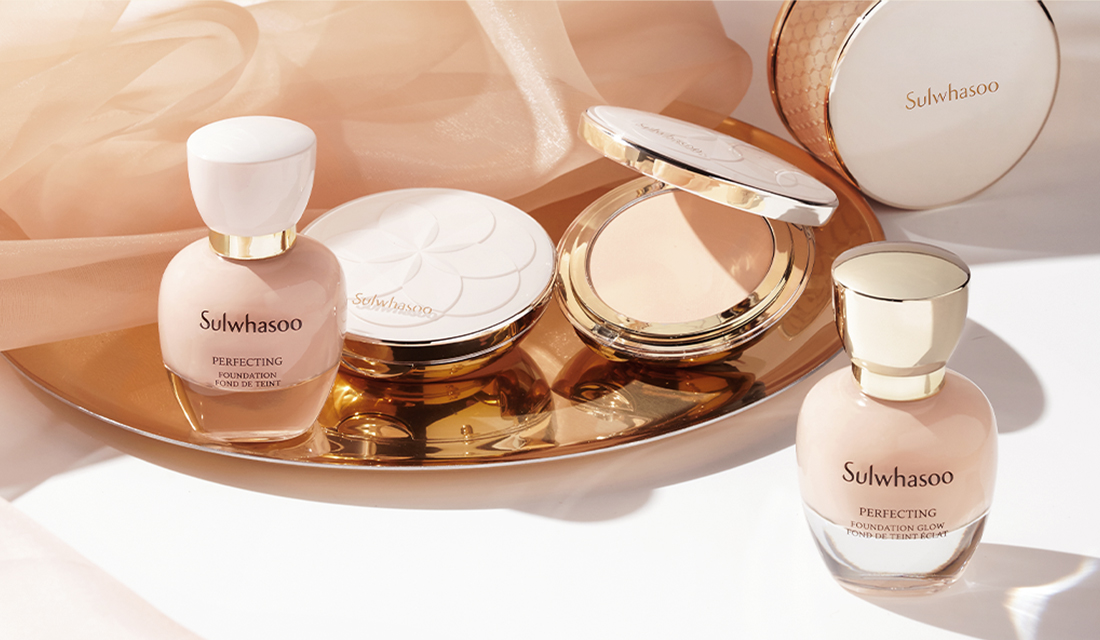 Perfect Wearing Formula
The Perfecting makeup line is a "skincare makeup" line that adds the wisdom of Hanji (Korean traditional paper) to Sulwhasoo's powerful skincare and makeup ingredients.
Inspired by Korean paper, which is known to breathe and last for a thousand years, Sulwhasoo developed a breathable makeup technology, and infused it with Sulwhasoo's unique skincare ingredients.
Ultimately, the Perfecting Foundation Balm keeps your skin soft, healthy, and beautiful with its breathable formula.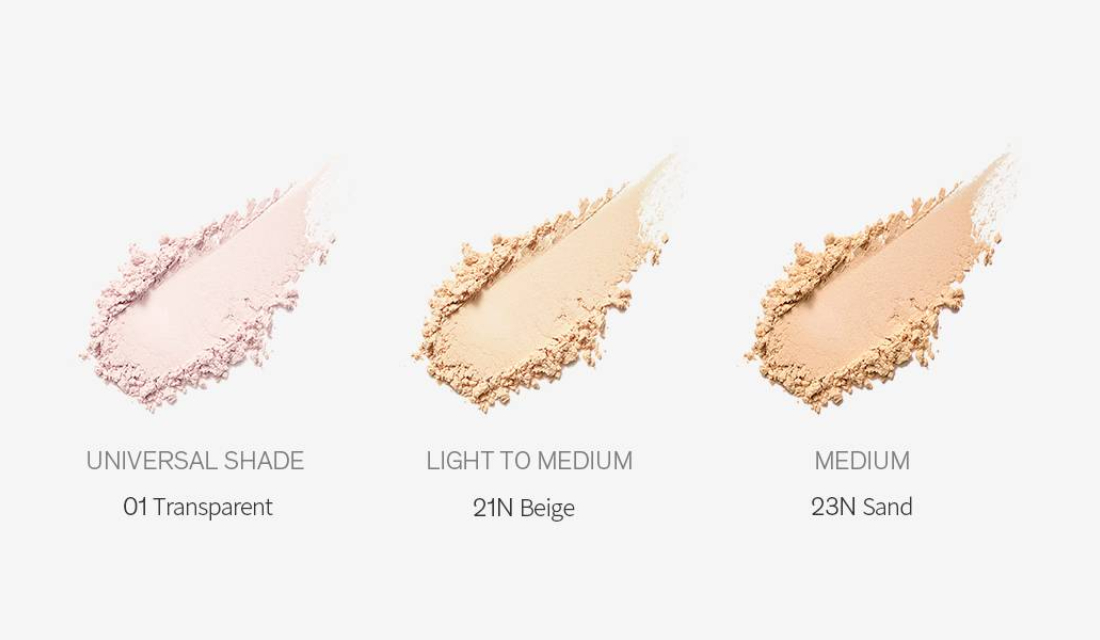 PERFECT COLOR SHADE
- UNIVERSAL SHADE : 01 Transparent
- LIGHT TO MEDIUM: 21N Beige
- MEDIUM: 23N Sand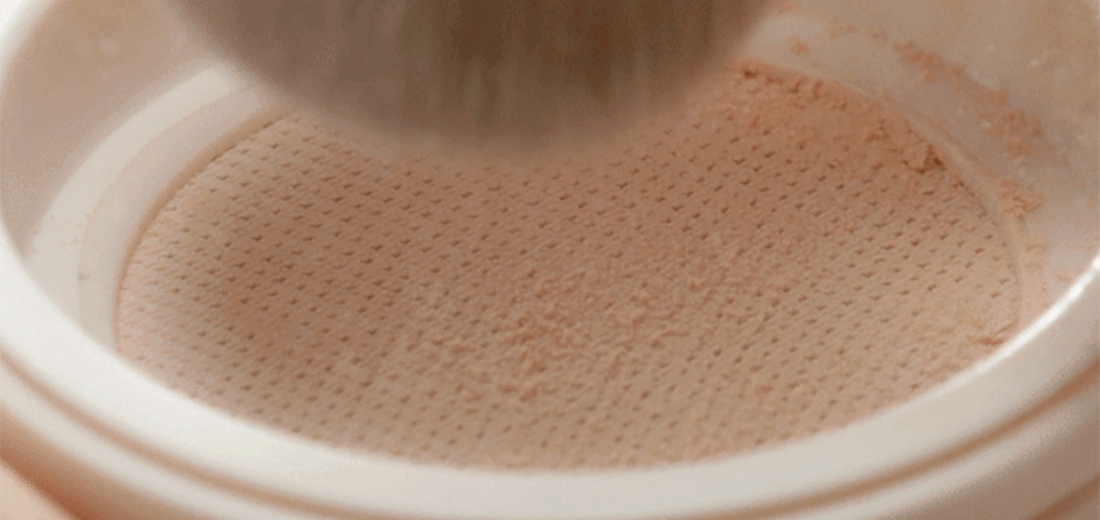 TIP
Use after applying your makeup base or foundation.
Dispense an appropriate amount on the puff, then apply gently all over your face.
Ingredients
[No. 01 Transparent] TALC, MICA, DIMETHICONE/VINYL DIMETHICONE CROSSPOLYMER, ETHYLENE/ACRYLIC ACID COPOLYMER, BARIUM SULFATE, TITANIUM DIOXIDE (CI 77891), SQUALANE, PCA DIMETHICONE, HYDROGENATED LECITHIN, ETHYLHEXYLGLYCERIN, FRAGRANCE / PARFUM, GLYCERYL CAPRYLATE, DIMETHICONOL, LINALOOL, WATER / AQUA / EAU, LIMONENE, MAGNESIUM MYRISTATE, GERANIOL, BENZYL BENZOATE, TIN OXIDE, IRON OXIDES (CI 77491), POLYMETHYLSILSESQUIOXANE, BUTYLENE GLYCOL, CITRONELLOL, GLYCERIN, CITRAL, METHOXY PEG-114/POLYEPSILON CAPROLACTONE, PROPANEDIOL, TRIETHOXYCAPRYLYLSILANE, TOCOPHEROL, PRUNUS MUME FRUIT EXTRACT, SESAMUM INDICUM (SESAME) SEED EXTRACT, PINUS KORAIENSIS SEED EXTRACT, CHAENOMELES SINENSIS FRUIT EXTRACT, ROSA MULTIFLORA FRUIT EXTRACT, PHENOXYETHANOL, PRUNUS MUME FLOWER EXTRACT, BETA-GLUCAN, HONEY / MEL / MIEL, REHMANNIA GLUTINOSA ROOT EXTRACT, PAEONIA LACTIFLORA ROOT EXTRACT, LILIUM CANDIDUM BULB EXTRACT, POLYGONATUM ODORATUM RHIZOME EXTRACT, NELUMBO NUCIFERA FLOWER EXTRACT

[No. 21N Beige] TALC, MICA, DIMETHICONE/VINYL DIMETHICONE CROSSPOLYMER, BARIUM SULFATE, TITANIUM DIOXIDE (CI 77891), SQUALANE, PCA DIMETHICONE, ETHYLENE/ACRYLIC ACID COPOLYMER, HYDROGENATED LECITHIN, ETHYLHEXYLGLYCERIN, FRAGRANCE / PARFUM, IRON OXIDES (CI 77492), GLYCERYL CAPRYLATE, DIMETHICONOL, IRON OXIDES (CI 77491), LINALOOL, IRON OXIDES (CI 77499), WATER / AQUA / EAU, LIMONENE, MAGNESIUM MYRISTATE, POLYMETHYLSILSESQUIOXANE, GERANIOL, BENZYL BENZOATE, BUTYLENE GLYCOL, TIN OXIDE, CITRONELLOL, GLYCERIN, CITRAL, METHOXY PEG-114/POLYEPSILON CAPROLACTONE, PROPANEDIOL, TOCOPHEROL, PRUNUS MUME FRUIT EXTRACT, SESAMUM INDICUM (SESAME) SEED EXTRACT, PINUS KORAIENSIS SEED EXTRACT, CHAENOMELES SINENSIS FRUIT EXTRACT, ROSA MULTIFLORA FRUIT EXTRACT, PHENOXYETHANOL, PRUNUS MUME FLOWER EXTRACT, BETA-GLUCAN, HONEY / MEL / MIEL, REHMANNIA GLUTINOSA ROOT EXTRACT, PAEONIA LACTIFLORA ROOT EXTRACT, LILIUM CANDIDUM BULB EXTRACT, POLYGONATUM ODORATUM RHIZOME EXTRACT, NELUMBO NUCIFERA FLOWER EXTRACT

[No. 23N Sand] TALC, MICA, DIMETHICONE/VINYL DIMETHICONE CROSSPOLYMER, BARIUM SULFATE, TITANIUM DIOXIDE (CI 77891), SQUALANE, PCA DIMETHICONE, ETHYLENE/ACRYLIC ACID COPOLYMER, HYDROGENATED LECITHIN, ETHYLHEXYLGLYCERIN, FRAGRANCE / PARFUM, IRON OXIDES (CI 77492), GLYCERYL CAPRYLATE, IRON OXIDES (CI 77491), DIMETHICONOL, LINALOOL, IRON OXIDES (CI 77499), WATER / AQUA / EAU, LIMONENE, MAGNESIUM MYRISTATE, POLYMETHYLSILSESQUIOXANE, GERANIOL, BENZYL BENZOATE, TIN OXIDE, BUTYLENE GLYCOL, CITRONELLOL, GLYCERIN, CITRAL, METHOXY PEG-114/POLYEPSILON CAPROLACTONE, PROPANEDIOL, TOCOPHEROL, PRUNUS MUME FRUIT EXTRACT, SESAMUM INDICUM (SESAME) SEED EXTRACT, PINUS KORAIENSIS SEED EXTRACT, CHAENOMELES SINENSIS FRUIT EXTRACT, ROSA MULTIFLORA FRUIT EXTRACT, PHENOXYETHANOL, PRUNUS MUME FLOWER EXTRACT, BETA-GLUCAN, HONEY / MEL / MIEL, REHMANNIA GLUTINOSA ROOT EXTRACT, PAEONIA LACTIFLORA ROOT EXTRACT, LILIUM CANDIDUM BULB EXTRACT, POLYGONATUM ODORATUM RHIZOME EXTRACT, NELUMBO NUCIFERA FLOWER EXTRACT