Sulwhasoo unveils 'Flowers and Butterflies' Limited Edition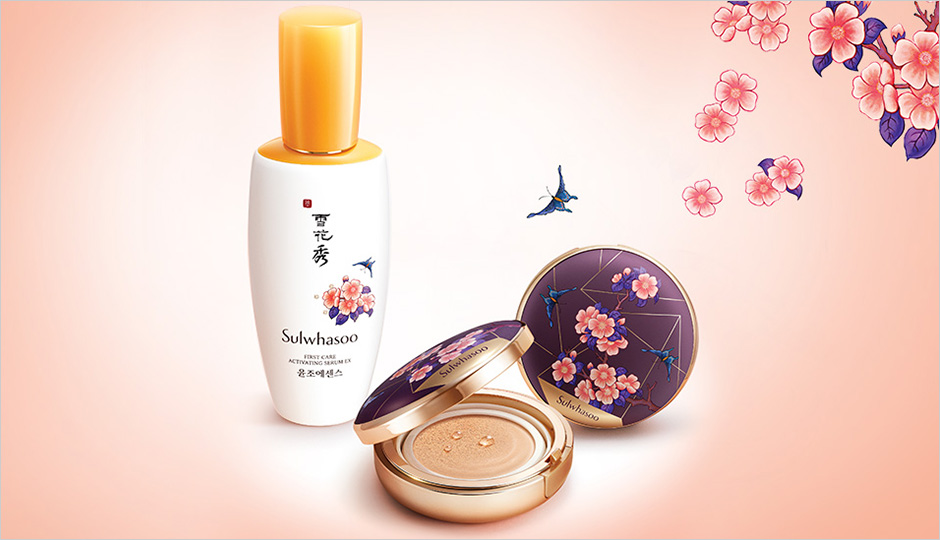 A portrayal of peaceful and auspicious energy
- Sulwhasoo delivers thanks to customers with 'Flowers and Butterfles' that symbolizes harmonious beauty and auspicious energy
- The limited edition comprises Sulwhasoo's three signature products: First Care Activating Serum EX, Perfecting Cushion, and Perfecting Cushion Brightening
Sulwhasoo, a holistic beauty brand that delivers the beauty of harmony and balance inspired by Asian philosophy and wisdom, globally releases 'Flowers and Butterflies' Limited Edition to spread the message of peace and gratefulness to all of its customers.
Paintings of flowers and butterflies were historically much cherished by our ancestors. From the royals to the ordinary families, they were regarded as charms for luck and blessings in all walks of life.The paintings portray important values in life – such as happiness, joy, beauty and abundance – drawn in flowers, fruits, birds, insects and animals in a harmoniously aesthetic way.
Sulwhasoo releases 'Flowers and Butterflies' Limited Edition, which presents a modern reinterpretation of the historically valuable painting to show gratitude for its customers in Korea and abroad. The painting captures a harmonious encounter of butterflies, the harbingers of harmonious and auspicious spirit, and plum blossoms, which embody the symbolic classical beauty of subtle and elegant fragrance.
Carrying a harmonious energy emanating from the painting, the Limited Edition will be delivered as Sulwhasoo's three global signature products and bring out the natural inner glow for skin to look healthy: First Care Activating Serum EX, Perfecting Cushion and Perfecting Cushion Brightening.
Perfecting Cushion Limited Edition contains Apricot seed-herbal moisturizer to make the skin look vibrant and healthy with a silky glow. Also the Watercolor Method applied on the cushion helps to disperse pigments with water instead of oil, and gives a flawless coverage that diminishes the appearance of blemishes and fine lines. Moreover, the distinctively adhesive layers that Sulwhasoo's products create form a flexible film on the skin to let the makeup stay for 12 hours without being dried or erased.
Perfecting Cushion Brightening Limited Edition brings out the natural bright complexion to make the skin look radiant all day long. Perfecting Cushion Brightening contains magnolia extract, in which the flower blooms with the splendor of spring, and Pearlescent Complex, the culmination of clarity and transparency, to brighten up the complexion and add a translucent radiance to the skin.
First Care Activating Serum EX Limited Edition is the world's first boosting serum based on Korean herbal medicine, and it provides skin with the uncomparable radiance through Sulwhasoo's proprietary formula, JAUM Balancing Complex™. First Care Activating Serum EX has joined Sulwhasoo's global-steady and best-selling products, selling more than 20 million units and breaching the 1 trillion KRW sales mark in January 2014, cumulated since its release in 1997. First Care Activating Serum EX addresses dryness in skin, the root cause of all skin troubles, with moisturizing and nourishing benefits that brings back balance to the skin by replenishing energy to achieve an uncomparable radiance.
Sulwhasoo 'Flowers and Butterflies' Limited Edition of Perfecting Cushion, Perfecting Cushion Brightening and First Care Activating Serum EX will be available at Sulwhasoo counters at department stores in Korea and abroad from XX.
Sulwhasoo Perfecting Cushion Limited Edition
Volume: 15G*2
Number of Shades:

No.21 Medium Pink
No.23 Medium Beige
Sulwhasoo Perfecting Cushion Brightening Limited Edition
Volume: 15G*2
Number of Shades:

No.21 Medium Pink
No.23 Medium Beige
Sulwhasoo First Care Activating Serum EX Limited Edition
About Sulwhasoo
Sulwhasoo believes in a holistic approach to beauty and skincare, providing the ultimate skin solution that carefully treats our inner and outer beauty. The approach harmonizes our natural beauty with ancient Asian wisdom and legendary Asian medicinal herbs to restore the delicate equilibrium between body and mind. The Sulwhasoo brand gains wisdom from the laws of nature and lavishes your body with the rare and precious ingredients of nature in pursuit of that ideal beauty. Sulwhasoo showcases the value of holistic beauty to the world with the Jaum Balancing Complex ™, our unique solution designed to supplement yin energy and help reverse aging by restoring the skin's balance. The formula uses just five precious ingredients, carefully selected from a list of more than 3,000 medicinal herbs, including Korean ginseng, the legendary ingredient that makes Sulwhasoo's unique formulas even more special when combined with our cutting-edge bioconversion technology. As of 2015, Sulwhasoo has stores in South Korea, Mainland China, Singapore, Hong Kong (China), Thailand, Indonesia, Malaysia, Taiwan, Vietnam, and the U.S., successfully thriving as the Asian beauty creator.